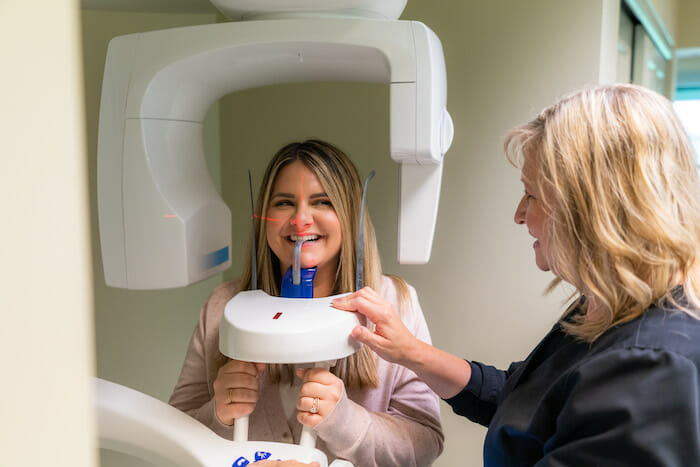 The best way to have good oral health is to take steps that promote wellness and prevent problems from occurring or worsening. While you can perform oral hygiene practices from home, preventive dentistry in Gahanna is an important component.
At Creekside Family Dental in Gahanna, OH, we offer preventive dentistry services that fit our belief in taking the most conservative approach to dentistry.
What Is Preventive Dentistry?
This type of dentistry, which may also be called general dentistry, includes services offered by a dental practice that improve oral health and minimize dental problems. It includes the professional cleanings that rid your mouth of bacteria and plaque, which eventually turn into tooth decay or gum disease.
Preventive dentistry includes exams that catch problems as early as possible, as well as minimal dental treatments that prevent minor problems from worsening. Solving problems early makes treatment easier and prevents the need for restorative treatments like bridges or dentures.
Which Preventive Dentistry Services Can I Get at Your Office?
Your biannual exam and cleaning appointments are the most important part of our preventive dentistry offerings. During these appointments, we also provide oral cancer screening to look for any early signs.
Beyond these regular visits, our preventive options include:
Fluoride treatments and sealants to protect and strengthen your teeth
Dental fillings or extractions to solve decay without further damage
Nightguards to protect your teeth and jaws from the effects of tooth grinding (Bruxism)
Why does preventive dentistry matter?
When left unchecked, substances like plaque, tartar and bacteria build up in your mouth and can lead to gum disease and cavities. If you leave these untreated, they can worsen. The problem becomes more painful and more severe in time.
Early treatment could include a regular cleaning or a filling, while untreated problems could result in intensive, costly treatments like periodontal services, root canals or implants.
Preventive dentistry helps patients keep their natural teeth and maintain healthy gums, which also benefits the health of the body. Many of the treatments that people do not like about the dentist can be avoided with preventive dentistry services that are generally fast, easy and inexpensive.
Who Is Preventive Dentistry Meant For?
People of any age benefit from this type of dentistry. Once a person begins having teeth, it's important to get regular cleanings throughout the person's lifetime. Even people with implants, dentures or other restorative dentistry options need to maintain their oral health from this point forward.
The need for specific services varies from person to person. For example, only people with decay would need fillings, and nightguards are intended for those who grind their teeth while sleeping.
While you may think fluoride treatments and sealants are solely for children, they provide similar benefits to adults. Fluoride treatments strengthen tooth enamel and are particularly beneficial for those who aren't exposed to enough through fluoride toothpaste or water. Sealants protect molars that are difficult to thoroughly clean.
Schedule Your Preventive Dentistry Appointment
The first step of preventive dentistry with our office is coming in for your exam and regular cleaning. During that appointment, we can discuss whether you would benefit from additional preventive services with us.
Contact our office to make your exam and cleaning appointment.